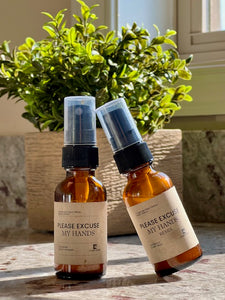 When soap and water just aren't possible, our "Please Excuse My Hands" sanitizing spray is sure to get the job done. Made with pure, simple ingredients and powered by a proprietary blend of germ-fighting essentials oils, take our 1 oz* sprays with you to keep your hands clean on-the-go without the worry of harsh chemicals.
Available with or without alcohol and in two soothing scents.  
Note: Due to the all-natural, preservative free ingredients used, these sprays are made to order and should be used within 3 months. Keep out of extreme heat and always test a small patch to ensure there is no skin sensitivity.
*Essential oils vary by density. As a result, our sprays are measured by weight and not by volume to ensure consistency.